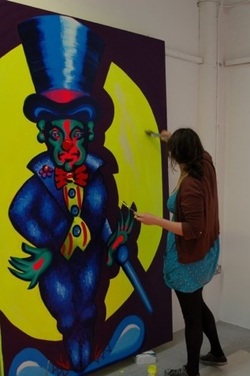 Flora Bradwell studied Fine Art Painting at City & Guilds of London Art School. Winner of the David Ballardie Travel Award in 2008, she travelled to Edinburgh Festival and found source material for her work in the varied entertainers on Edinburgh's Royal Mile. Her vibrant canvases of distorted performers are inspired by the circus and ideas of facade. Recently narrative has become an increasingly important feature in Flora's work, she is currently populating an imagined circus dynasty, The Cluen Family.
Flora also works on collaborative installations and projects; most recently LAND OF TINA as part of Land of Kings Festival in Dalston 2012. She also collaborated on The Memory Exchange at Brixton Village Market in association with Spacemakers and Lambeth Council (2009-10). And Ricardo Basbaum's Would You Like to Participate in an artistic Experience?
at the Showroom, Edgware Road in 2010.
In 2011 Flora wrote and directed her first short film, RIGHTING, which won the Reel Islington Film Festival Short Film Award in 2012. Righting offers a rare glimpse into the world of Chris Bailey, a signage enthusiast from Huntingdon who secretly replaces missing letters on shop fronts. Since making RIGHTING Flora co-founded Greenhorn Short Film Festival, an annual festival celebrating emerging film talent. Flora's second short LADIES is currently in post-production.
For more examples of Flora's work click here.
www.florabradwell.com
---
Brittany Davies is an illustrator and artist-maker living in Ross-on-Wye, England. Her work The Jazzmen, below, was inspired by Rhuar's short story of the same name and featured in
Fabula Argentea
magazine, alongside the story.
To see more of Brittany's work, visit:
www.facebook.com/brittanydaviesart