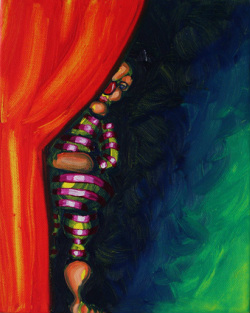 By looking in at the door he hoped to never be inside. By passing the window or moving his eyes over the fence. He knew when she would be there, roughly. He knew when she left for work and at what time she usually returned. Her curtains were always reassuringly ajar, they left dancing lights flung by the television and occasionally a leg, sometimes even the side of her face. That was enough. There couldn't be any more.
The Fence
, 2012
Cuckoo,
a short story, has been featured as part of Litro New York's online Story Sunday series and is available here.
Poem Kennington Dawn has been featured on Octavius website,
here
and two more on the same site
here
.
Follow Rhuar on Twitter and Facebook:
Twitter:
https://twitter.com/RhuarDean
Facebook:
http://www.facebook.com/rhuar.dean
Occasional ramblings, stories and updates on recent publications are sent out by email. Subscribe
here
.
All artwork by Flora Bradwell except
The Jazzmen
, by Brittany Davies
www.florabradwell.com
---