Short Stories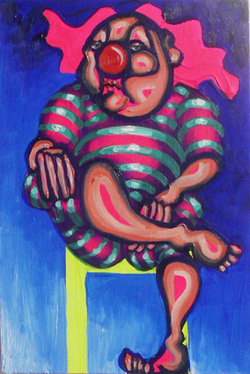 Having fallen into poetry at an early age and spent a year of his life writing reems of pointless copy as a journalist, Rhuar decided that words were his thing. That's not to say that numbers can't be beautiful too.
Stories Available Online
The Public Beach
was published by Litro New York and is available here.


Blood Moon
was performed by the Liars' League in New York in December 2015. Listen to Jere Williams perform the story or read it for yourself on the Liars' League website here.
Cuckoo
was featured as part of Litro New York's online Story Sunday series and is available here.
Work Out
was performed by the Liars' League in London in May 2015. Watch Alex Woodhall perform the story on the Liars' League website, or read it for yourself,
here
.
The Jazzmen
is available on
Fabula Argentea's website
. According to the editor: "Whether you're a jazz aficionado, a casual listener, or you know next to nothing about jazz, we're sure that you'll be as thoroughly drawn into the three-dimensional lives and world of these wonderfully drawn characters as we were. And, like us, you might be a little sad at having to leave them." Click
here
to read the story.
Mummy is very beautiful
was performed at the Liars' League in New York on 5 February 2014. The text of the story and podcast is available
here.
Hit in Your Soul
is out on the
Londonist website
: "A Brixton gig is not the answer to all life's woes."
Dinner for Two
is available both in print and online - published in
Litro Issue 124
. Litro billed it as "a fall from grace in three courses."
House
Boa
t
is available as a podcast on the
4'33''
Website - story # 70. Set in Cairo it tips its hat to the great Egyptian Storyteller Naguib Mahfouz, as well as to Rhuar's own time in the city that they call '
Umm al-Dunya'
- Mother of the World. Click on the House Boat tab above for the text of the story.
London City Airpo
rt
is available on the
Smoke
: a London Peculiar website. An airport bar, whisky and two strangers getting to know each other.
Baby on Board
is available on the
Word Hut
website. A love story in eleven stops, but who's the father?
Stories in Print & Kindle
Inert is out in Issue 14 of the Belleville Park Pages:

"Her mouth was open. Horrible. Her red lips peaked above her mouth like a woman's legs bent at the knees and spread for sex. The woman fucked her mouth with a ham sandwich. The man behind the counter cut a ham, one hand skewering it with a fork, the other slicing, slicing, slicing."

A
vailable at outlets in Paris, London, Glasgow, Isle of Wight, Scarthin, Amsterdam, Stockholm, Uppsala, Boston, Brooklyn and Lincoln. Check out stockists or buy online for only £3 (£2 +£1 for shipping) here. N155 is also out in Issue 28 of the Belleville Park Pages.

Reverse Solicitation is published in Open Pen Magazine, Issue 10. According to Open Pen: 'Rhuar Dean's mentally unhinging, mentally unhinged piece Reverse Solicitation is no short of fascinating and classy.' A list of stockists here.

The Cranes is published in Crannog Magazine Issue 34, available to buy in print, or download via Amazon for Kindle here. "The Cranes soon loses contact with objective reality, before even a foot has been placed on the first rung.".
Locum
is published in the June edition of the
Interpreter's House
magazine. Locum is a tale in which a man contemplates which he prefers: his wife, or coffee. An
audio version
of the story is also available on the Word Hut website.
Revival, The Secret Garden and Ghost Wank have all appeared on Open Pen's BERG Little Printer publication.
Live Readings, Competitions and Other Things
London Out was performed at Liars League Leicester. According to the Liars, London Out is 'A bleak and grueling tale of spies, terrorism, and one last cigarette...' but they would say that, wouldn't they. Liars. Details here.

T
he Cranes
won second prize in the
Sentinel Short Story Competition
. According to the judge, Brindley Hallam Dennis:
"The Cranes
soon loses its contact with objective reality, before even a foot has been placed on the first rung. Yet, as the protagonist climbs higher the glimpses of reality that he gets become sharper and more powerful as he distances himself from them. The final scenes, the final words, are terrifyingly real."
The Cranes
was also longlisted for the
Lightship Short Story Prize 2013
and published in
Crannog 34
.
City Airport
and
Bananas
, were long-listed for the
Frome Festival Short Story Competition
2012 and The Cranes was long-listed for the 2013 competition. Mummy is Very Beautiful was shortlisted for the
4th Word Hut Short Story Competition
. Blood Dress also received a special mention in the Sentinel Poetry Annual Short Story Competition.
Litro published an article I wrote on the theme of '
My Personal Cult
' fetishing the brilliant
Y-Tuesday Poetry Club
.
---